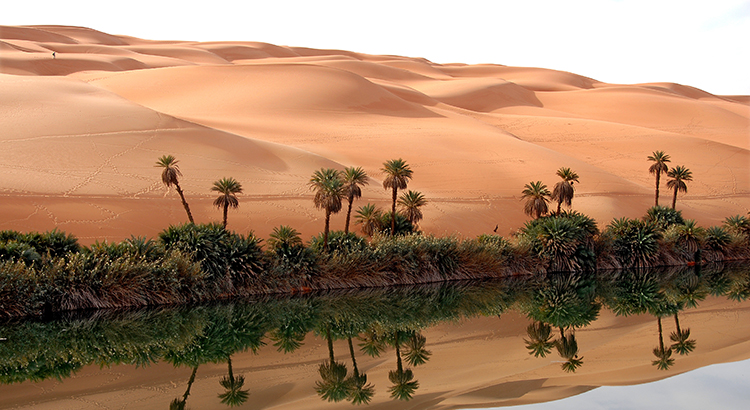 Sellers have a great opportunity this season as buyer demand still heavily outweighs the current supply of homes for sale. According to the National Association of Realtors (NAR), today's housing inventory sits at only a 2.6-month supply. To put that into perspective, a neutral market typically features a 6-month supply. That places today's market firmly in the sellers' market category.
That same NAR data also shows today's inventory of single-family homes is trailing behind the level we saw last year (see graph below):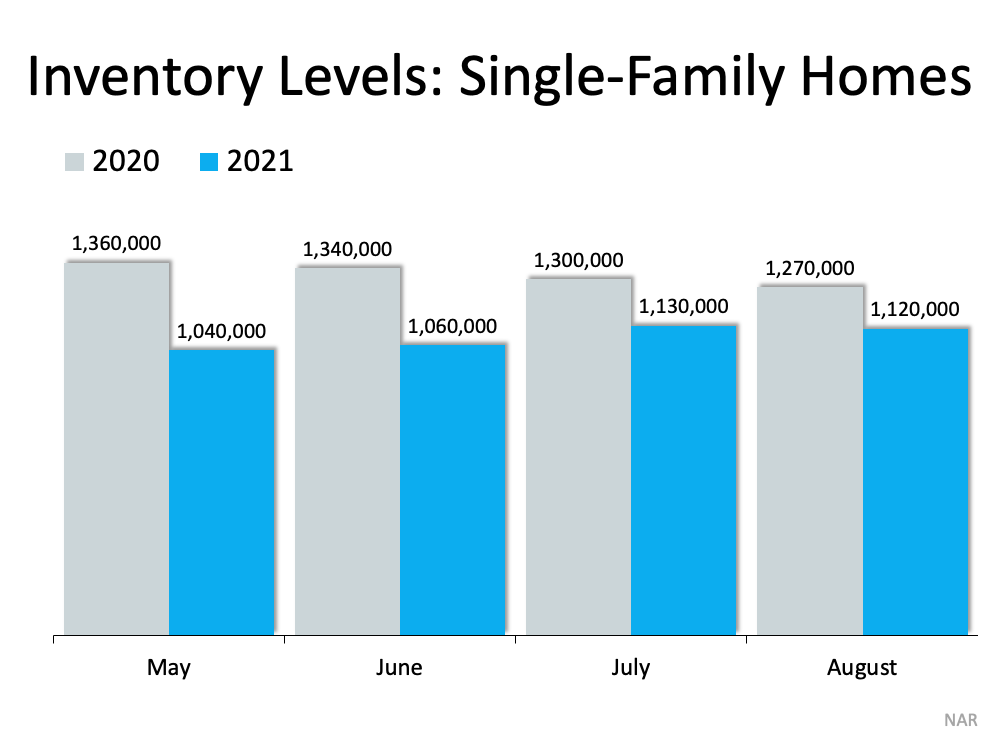 Because of the ongoing supply challenges, buyers can feel like they're wandering across a vast, empty desert when searching for their next home. That means your house could provide an oasis for buyers thirsty for options – and it could increase the chances of buyers entering a bidding war for your home.
The latest Realtors Confidence Index Survey from NAR shows houses are receiving an average of 3.8 offers. A multiple-offer scenario lets you select the best offer and gives you incredible leverage when you sell this fall.
Bottom Line
Buyers today are looking for relief as they wander today's inventory desert. Listing your house this fall – before more options appear – gives your house the best chance to be noticed by multiple buyers. Let's connect today so your house can stand out as the oasis it truly is.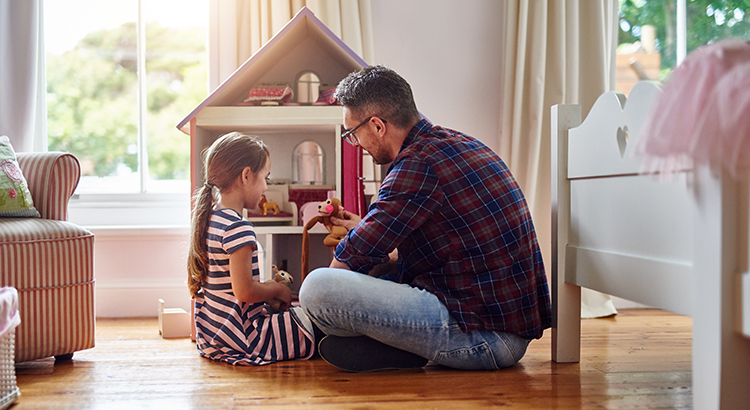 A recent survey from LendingTree.com found there are multiple reasons why Americans would choose to purchase a home instead of renting. Some of the most popular non-financial reasons given include:
The flexibility to make the space your own
The pride homeownership offers
The sense of stability
In the same survey, 41% of respondents say they'd rather own a home than rent because of the unique way homeownership builds wealth over time.
And experts agree – the home you own is an important tool for building your net worth. Here's what many of those experts have to say about building long-term financial stability through homeownership.
According to the National Association of Realtors (NAR):
"Homeowners who purchased a typical single-family existing-home 30 years ago at the median sales price of $103,333 with a 10% down payment loan and who sold the property at the median sales price of $357,700 in 2021 Q2 accumulated housing wealth of $349,258, . . ."
Mark Fleming, Chief Economist at First American, points out that a home is truly a one-of-a-kind asset. It's the only asset that's both an investment and a place for you to call your own.
"The major financial advantage of homeownership is the accumulation of equity in the form of house price appreciation. . . . We won't always have 17% house price appreciation, but we have to take into account the fact that the shelter that you're owning is an equity-generating or wealth-generating asset."
Homeowners can leverage the wealth they generate in several ways throughout their life. Tapping into accumulated equity has long been used to pay for the cost of an education, to start a business, or to fund various other expenses. The Joint Center of Housing Studies at Harvard points out:
". . . by paying down mortgage principal each month and participating in the long-term appreciation of home values, a family can build wealth that can be used for retirement or other needs, including helping the next generation."
Bottom Line
With home prices expected to continue to appreciate in coming years, homebuyers have an opportunity to start the long-term wealth-building process right now. Let's connect today if you're ready to begin your journey on the path to becoming a homeowner.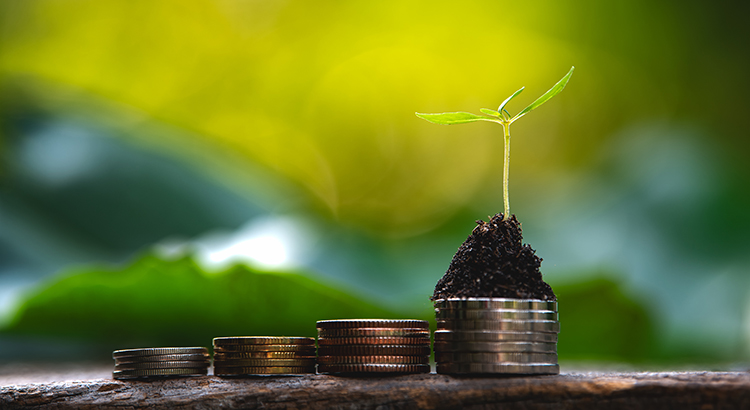 Homeownership is still a crucial part of the American dream. For those people who own a home (and those looking to buy one), it's clear that being a homeowner has considerable benefits both emotionally and financially. In addition to long-term stability, buying a home is one of the best ways to increase your net worth. This boost to your wealth comes in the form of equity.
Equity is the difference between what you owe on the home and its market value based on factors like price appreciation.
The best thing about equity is that it often grows without you even realizing it, especially in a sellers' market like we're in now. In today's real estate market, the combination of low housing supply and high buyer demand is driving home values up. This is giving homeowners a significant equity boost.
According to the latest data from CoreLogic, the amount of equity homeowners have has continued to grow as home values appreciate. Here are some key takeaways from the Homeowner Equity Insights Report:
The average homeowner gained $51,500 in equity over the past year
There was a 29.3% increase in national homeowner equity year over year
To give you an idea of what that looks like in your area, the map below shows the average equity gains by state.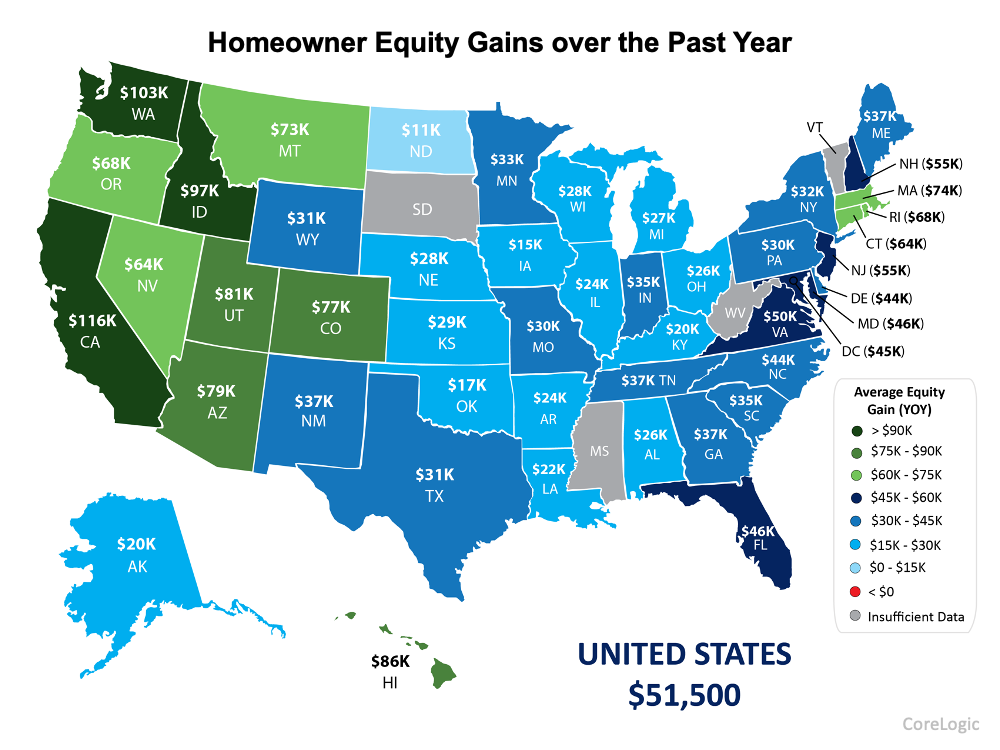 What does all of that mean for you?
If you're already a homeowner, you likely have more equity in your house than you realize. The numbers in the map above reflect year-over-year growth. If you've been in your home for longer than a year, you'll likely have even more equity than that. That equity can take you places. You can use the equity you've gained to fuel your next move, achieve other life goals, and more.
On the other hand, if you haven't purchased a home yet, understanding equity can help you realize why homeownership is a worthwhile goal. Homeowners across the nation gained an average of over $50,000 in equity this year. Don't miss out on this chance to grow your net worth.
Bottom Line
If you want to learn more, let's connect. A trusted advisor can help you understand where home prices are today, how they contribute to a homeowner's net worth, and the impact equity can have when you own a home.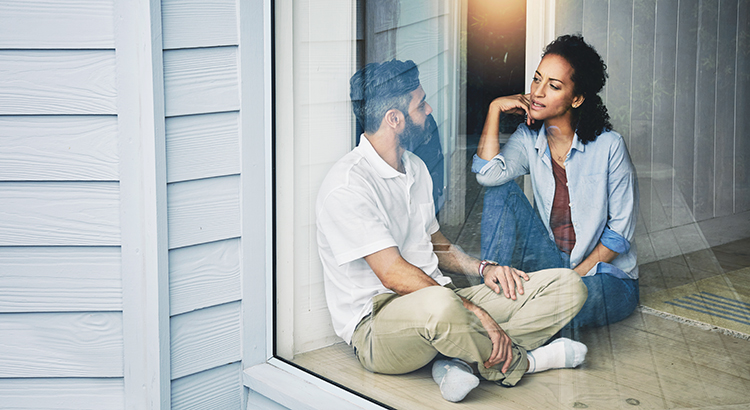 In today's real estate market, buyers shouldn't shop for a home with the expectation they'll be able to negotiate a lower sales price. In a typical housing market, buyers try to determine how much less than the asking price they can offer and still get the home. From there, the buyer and seller typically negotiate and agree on a revised price somewhere in the middle.
Things Are Different Today
Today's housing market is anything but normal. According to the National Association of Realtors (NAR), homes today are:
Receiving an average of  3.8 offers
Selling in just 17 days
Homes selling quickly and receiving multiple offers highlights how competitive the housing market is right now. This is due, in large part, to the low supply of homes for sale. Low supply and high demand mean homes often sell for more than the asking price. In some cases, they sell for a lot more. Selma Hepp, Deputy Chief Economist at CoreLogic, explains how these stats can impact buyers:
"The imbalance between robust demand and dismal availability of for-sale homes has led to a continual bidding over asking prices, which reached record levels in recent months. Now, almost 6 in 10 homes listed are selling over the asking price."
You May Need To Rethink How You Look at a Home's Asking Price
What does that mean for you? If you've found your dream home, you need to be realistic about today's housing market and how that impacts the offer you'll make. Offering below or even at a home's asking price may not cut it. In today's market, the highest bidder often wins the home, much like at an auction.
Currently, the asking price is often the floor of the negotiation rather than the ceiling. If you really love a home, it may ultimately sell for more than the sellers are asking. That's important to keep in mind as you work with your agent to craft an offer.
Understand An Appraisal Gap Can Happen
Because of today's home price appreciation and the auction-like atmosphere in the selling process, appraisal gaps – the gap between the price of your contract and the appraisal for the house – are more frequent.
According to data from CoreLogic:
"Beginning in January 2020, nationally, 7% of purchase transactions had a contract price above the appraisal, but by May 2021, the frequency had increased to 19% of purchase transactions."
When this happens, your lender won't loan you more than the home's appraised value, and the seller may ask you to make up the difference out of pocket. Buyers in today's market need to be prepared for this possibility. Know your budget, know what you can afford, and work with a trusted advisor who can offer expert advice along the way.
Bottom Line
Bidding wars and today's auction-like atmosphere mean buyers need to rethink how they look at the asking price of a home. Let's connect so you have a trusted real estate professional who can advise you on the current market and help determine what the market value is on your dream home.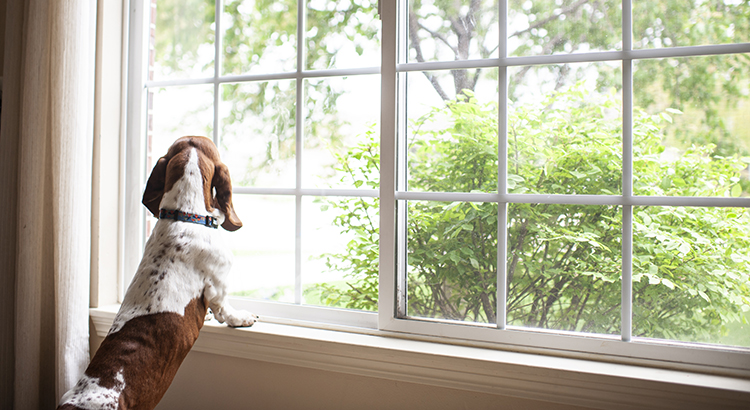 If you've been in your home for longer than five years, you're not alone. According to recent data from First American, homeowners are staying put much longer than historical averages (see graph below):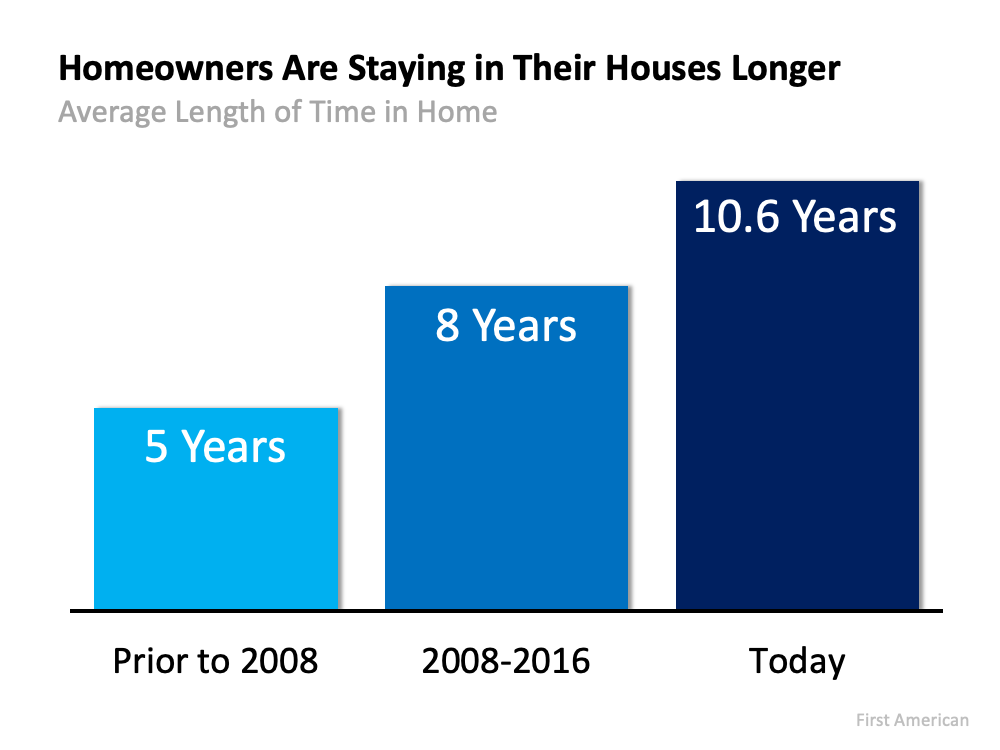 As the graph shows, before 2008, homeowners sold their houses after an average of just five years. Today, that number has more than doubled to over 10 years. The housing industry refers to this as your tenure.
To really explore tenure, it's important to understand what drives people to make a move. An article from The Balance explores some of the primary reasons individuals choose to sell their houses. It says:
"People who move for home-related reasons might need a larger home or a house that better fits their needs, . . . Financial reasons for moving include wanting a nicer home, moving to a newer home to avoid making repairs on the old one, or cashing in on existing equity."
If you've been in your home for longer than the norm, chances are you're putting off addressing one, if not several, of the reasons other individuals choose to move. If this sounds like you, here are a few things to consider:
If your needs have changed, it may be time to re-evaluate your home.
As the past year has shown, our needs can change rapidly. That means the longer you've been in your home, the more likely it is your needs have evolved. The Balance notes several personal factors that could lead to your home no longer meeting your needs, including relationship and job changes.
For example, many workers recently found out they'll be working remotely indefinitely. If that's the case for you, you may need more space for a dedicated home office. Other homeowners choose to sell because the number of people living under their roof changes. Now more than ever, we're spending more and more time at home. As you do, consider if your home really delivers on what you need moving forward.
It's often financially beneficial to sell your house and move.
One of the biggest benefits of homeownership is the equity your home builds over time. If you've been in your house for several years, you may not realize how much equity you have. According to the latest Homeowner Equity Report from CoreLogic, homeowners gained an average of $33,400 in equity over the past year.
That equity, plus today's low mortgage rates, can fuel a major upgrade when you sell your home and purchase a new one. Or, if you're looking to downsize, your equity can help provide a larger down payment and lower your monthly payments over the life of your next loan. No matter what, there are significant financial benefits to selling in today's market.
Bottom Line
If you've been in your home for 5-10 years or more, now might be the time to explore your options. Today's low rates and your built-up equity could provide you with the opportunity to address your evolving needs. If you feel it's time to sell, let's connect.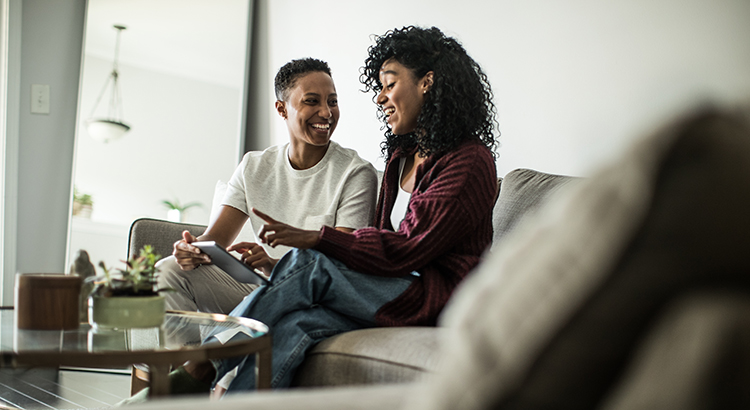 In today's sellers' market, standing out as a buyer is critical. Multi-offer scenarios and bidding wars are the norm due to the low supply of houses for sale and high buyer demand. If you're buying this fall, you'll want every advantage, especially when you've found the home of your dreams.
Below are five things to keep in mind when it's time to make an offer.
1. Know Your Budget
Knowing your budget and what you can afford is critical to your success as a homebuyer. The best way to understand your numbers is to work with a lender so you can get pre-approved for a loan. As Freddie Mac puts it:
"This pre-approval allows you to look for a home with greater confidence and demonstrates to the seller that you are a serious buyer."
Showing sellers you're serious can give you a competitive edge. It enables you to act quickly when you've found your perfect home.
2. Be Prepared To Move Fast
Speed and the pace of sales are contributing factors to today's competitive housing market. According to the latest Existing Home Sales Report from the National Association of Realtors (NAR), the average home is on the market for just 17 days. As the report notes:
"Eighty-nine percent of homes sold in July 2021 were on the market for less than a month."
When homes are selling fast, staying on top of the market and moving quickly are key. After you've worked with your agent to find the home that suits your needs, they'll help you put together and submit your best offer as soon as possible.
3. A Real Estate Professional Can Lead You to Victory
No matter what the housing market looks like, rely on a trusted real estate advisor. As Freddie Mac says:
"The success of your homebuying journey largely depends on the company you keep. . . . be sure to select experienced, trusted professionals who will help you make informed decisions and avoid any pitfalls."
Agents are experts in the local real estate market. They have insight into what's worked for other buyers in your area and what sellers may be looking for in an offer. It may seem simple, but catering to what a seller may need can help your offer stand out.
4. Craft a Strong, Fair Offer
In the past, offering at or near the asking price was enough to make your offer appealing to sellers. In today's market, that's often not the case. According to the latest Realtors Confidence Index from NAR, 50% of offers are above the list price.
In such a competitive market, emotions and prices can run high. Having an agent to help craft a strong, fair offer is critical in these situations. Your agent can help you understand:
The market value of the home
Recent sales trends in the area
Current buyer demand
5. Understand the Seller's Needs, but Resist Waiving Certain Contingencies
When crafting an offer, you'll want to keep both your best interest and the interest of the seller in mind. Your trusted real estate advisor will help you consider which levers you could pull, including contract contingencies (conditions you set that the seller must meet for the purchase to be finalized). Of course, there are certain contingencies you don't want to give up, like the home inspection.
Freddie Mac explains:
"Resist the temptation to waive the inspection contingency, especially in a hot market or if the home is being sold 'as-is', which means the seller won't pay for repairs. Without an inspection contingency, you could be stuck with a contract on a house you can't afford to fix."
Bottom Line
Today's competitive housing market makes it more important than ever to make a strong offer on a home. Let's connect to make sure your offer rises to the top.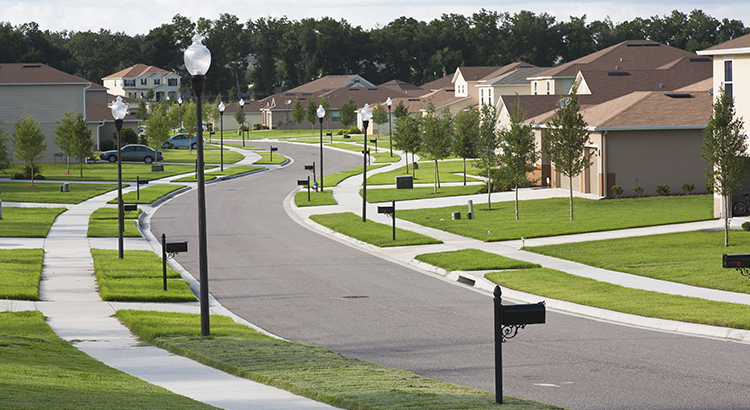 An important metric in today's residential real estate market is the number of homes available for sale. The shortage of available housing inventory is the major reason for the double-digit price appreciation we've seen in each of the last two years. It's the reason many would-be purchasers are frustrated with the bidding wars over the homes that are available. However, signs of relief are finally appearing.
According to data from realtor.com, active listings have increased over the last four months. They define active listings as:
"The active listing count tracks the number of for sale properties on the market, excluding pending listings where a pending status is available. This is a snapshot measure of how many active listings can be expected on any given day of the specified month."
What normally happens throughout the year?
Historically, housing inventory increases throughout the summer months, starts to tail off in the fall, and then drops significantly over the winter. The graph below shows this trend along with the month active listings peaked in 2017, 2018, and 2019.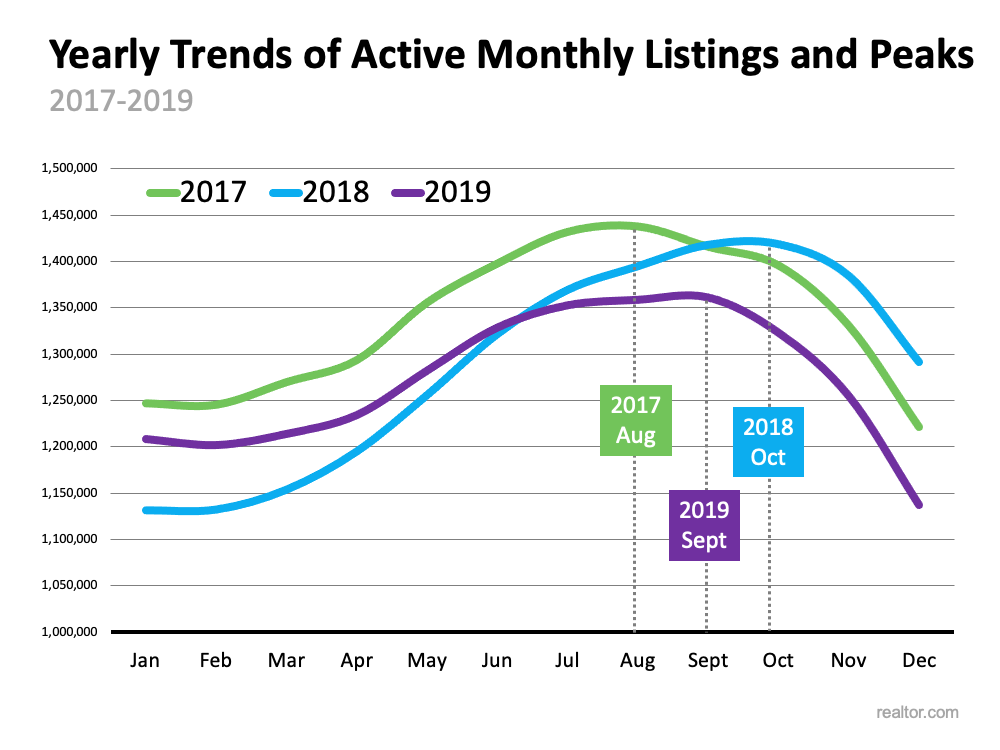 What happened last year?
Last year, the trend was different. Historical seasonality wasn't repeated in 2020 since many homeowners held off on putting their houses up for sale because of the pandemic (see graph below). In 2020, active listings peaked in April, and then fell off dramatically for the remainder of the year.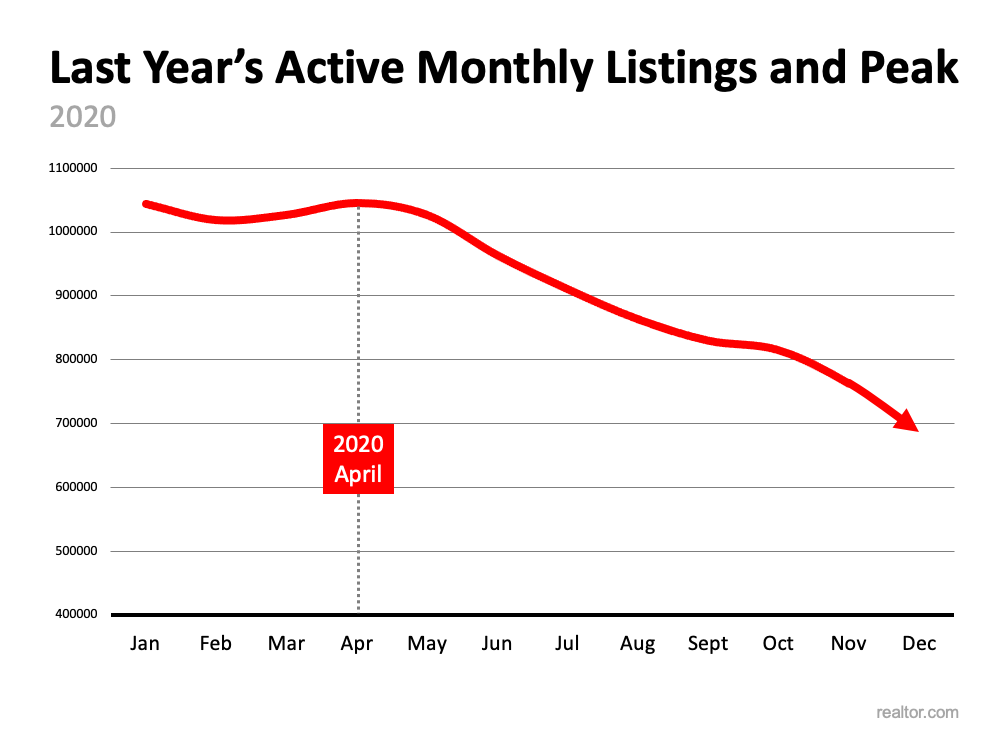 What's happening this year?
Due to the decline of active listings in 2020, 2021 began with record-low housing inventory counts. However, we've been building inventory over the last several months as more listings come to the market (see graph below):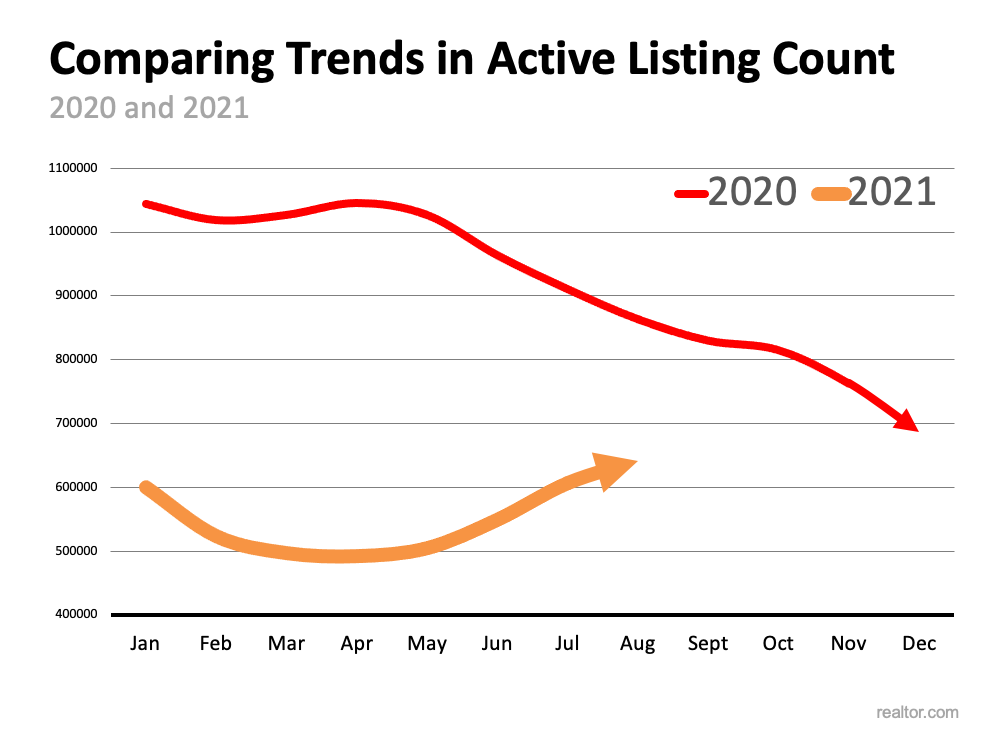 There are three main reasons we may see listings continue to increase throughout this fall and into the winter.
Pent-up selling demand – Homeowners may be more comfortable putting their homes on the market as more and more Americans get vaccinated.
New construction is starting to take off – Though new construction is not included in the realtor.com numbers, as more new homes are built, there will be more options for current homeowners to consider when they sell. The lack of options has slowed many potential sellers in the past.
The end of forbearance will create some new listings – Most experts believe the end of the forbearance program will not lead to a wave of foreclosures for several reasons. The main reason is the level of equity homeowners currently have in their homes. Many homeowners will be able to sell their homes instead of going to foreclosure, which will lead to some additional listings on the market.
Bottom Line
If you're in the market to buy a home, stick with it. There are new listings becoming available every day. If you're thinking of selling your house, you may want to list your home before this additional competition comes to market.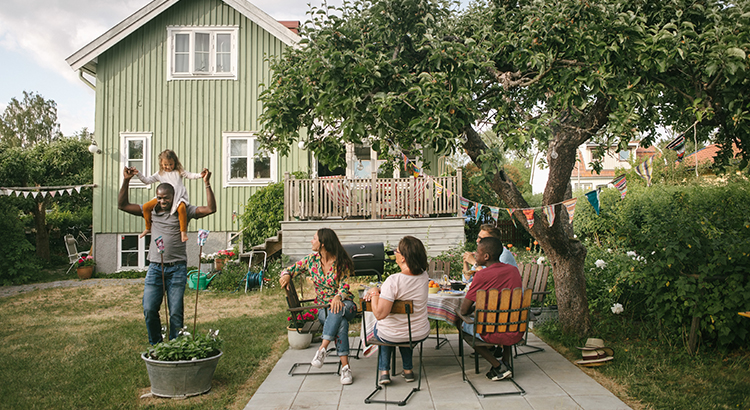 There are many headlines out there that claim we're reverting to a more normal real estate market. That would indicate the housing market is returning to the pre-pandemic numbers we saw from 2015-2019. But that's not happening. The market is still extremely vibrant as demand is still strong even while housing supply is slowly returning.
Here's the definition of normal from the Merriam-Webster Dictionary:
"conforming to a type, standard, or regular pattern: characterized by that which is considered usual, typical, or routine."
Using this definition, here are five housing industry metrics that prove we're nowhere near normal.
1. Mortgage Rates
If we look at the 30-year mortgage rate chronicled by Freddie Mac, we can see the average rates by decade:
1970s: 8.86%
1980s: 12.7%
1990s: 8.12%
2000s: 6.29%
2010s: 4.09%
Today, the average mortgage rate stands at 2.87%, which is very close to the historic low.
Currently, mortgage rates are anything but usual, typical, or routine.
2. Home Price Appreciation
According to Black Knight, a housing data and analytics company, the average annual appreciation on residential real estate prices since 1995 has been 4.14%.
According to the latest forecast from the National Association of Realtors (NAR), home price appreciation will hit 14.1% this year, which will be greater than any year since Black Knight began collecting this data.
Currently, home price appreciation is anything but usual, typical, or routine.
3. Months' Supply of Inventory (Homes for Sale)
According to NAR:
"Months' supply refers to the number of months it would take for the current inventory of homes on the market to sell given the current sales pace. Historically, six months of supply is associated with moderate price appreciation, and a lower level of months' supply tends to push prices up more rapidly."
As of the latest Existing Homes Sales Report from NAR, the current months' supply of inventory stands at 2.6. That's less than half of a normal supply.
Currently, the supply of homes for sale is anything but usual, typical, or routine.
4. Days It Takes To Sell a Home
The days-on-market metric gives an indication of how hot a market is and how quickly homes are selling. In 2019, prior to the pandemic, the average days on market stood at 35, according to NAR. Today, that number is cut in half and is now at 17 days.
Currently, the days-on-market metric is anything but usual, typical, or routine.
5. Number of Offers per Listing
According to NAR, the number of offers per listing stood at 2.2 in 2019. Today, that number is double at 4.5.
Currently, the number of offers per listing is anything but usual, typical, or routine.
Bottom Line
When…
Mortgage rates are near historic lows
Price appreciation is at historic highs
Housing inventory is less than half of the normal amount
The time it takes to sell a home is cut in half, and
There are twice as many offers on each house
…it's hard to say we're in a normal market.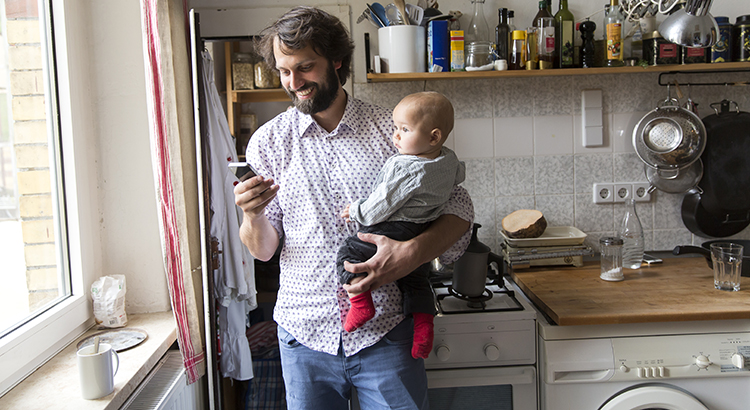 There are many non-financial benefits of buying your own home. However, today's headlines seem to be focusing primarily on the financial aspects of homeownership – specifically affordability. Many articles are making the claim that it's not affordable to buy a home in today's market, but that isn't the case.
Today's buyers are spending approximately 20% of their income on their monthly mortgage payments. According to The Essential Guide to Creating a Homebuying Budget from Freddie Mac, the 20% of income that purchasers are currently paying is well within the 28% guideline suggested:
"Most lenders agree that you should spend no more than 28% of your gross monthly income on a mortgage payment (including principal, interest, taxes and insurance)."
So why is there so much talk about challenges regarding affordability?
It's Not That Homes Are Unaffordable – It's That They're Less Affordable.
Since home prices are rising, it's true that homes are less affordable than they have been since the housing crash fifteen years ago. Headlines making these claims aren't incorrect; they just don't tell the whole story. To paint the full picture, you have to look at how today stacks up with historical data. A closer analysis of affordability going further back in time reveals that homes today are more affordable than any time from 1975 to 2005.
Despite that, the chatter about affordability is pushing some buyers to the sidelines. They don't feel comfortable knowing someone else got a better deal a year ago.
However, Are Homes Really Less Affordable if We Consider Equity?
In a recent post, Odeta Kushi, Deputy Chief Economist at First American, offers a different take on the financial components of housing affordability. Kushi proposes we should at least consider the impact equity build-up has on the affordability equation, stating:
"For those trying to buy a home, rapid house price appreciation can be intimidating and makes the purchase more expensive. However, once the home is purchased, appreciation helps build equity in the home, and becomes a benefit rather than a cost. When accounting for the appreciation benefit in our rent versus own analysis, it was cheaper to own in every one of the top 50 markets."
Let's look at an example. In the above-mentioned post, Kushi examines the rent versus buy situation in Dallas, Texas. Kushi chose Dallas because home prices there sit near the median of the top 50 markets in the nation.
Kushi first calculates the monthly mortgage payment on a median-priced home with a 5% down payment and a mortgage rate of 3% (see chart below):

Kushi then takes the monthly cost and subtracts the appreciation the home had over the previous twelve months. The average house price in Dallas increased 17.5% in the second quarter of 2021 compared to last year (this is in line with the national pace). That equates to an equity benefit of approximately $3,550 each month if the pace remains the same (see chart below):

We can see the equity gained each month was greater than the monthly mortgage payment, resulting in a negative cost to own. The buyer could build their net worth by $1,830 each month – after paying their mortgage.
Kushi then compares the monthly cost of owning to the cost of renting (see chart below):

When adding equity build-up into the equation, the cost of renting is $3,140 more expensive than owning. Again, the First American analysis shows that it's less expensive to own in each of the top 50 markets in the country when including the equity component.
Bottom Line
If you're on the fence about whether to buy or rent right now, let's connect so we can determine if the equity increase in our local market should impact your decision.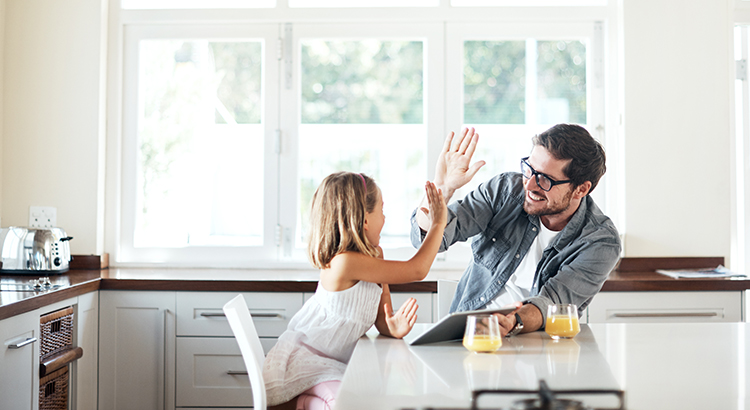 When you hear the phrase home price appreciation, what does it mean to you? Through context clues alone, chances are you know it has to do with rising home prices. And as a seller, you know rising home prices are good news for your potential sale. But let's look past the dollar signs and dive deeper into the concept. To truly understand home price appreciation, you need to know how it works and why it matters to you.
Investopedia defines appreciation like this:
"Appreciation, in general terms, is an increase in the value of an asset over time. The increase can occur for a number of reasons, including increased demand or weakening supply, or as a result of changes in inflation or interest rates. This is the opposite of depreciation, which is a decrease in value over time." 
When we consider this definition and how it applies to real estate, a few words stick out: supply and demand. In today's real estate market, we're experiencing high buyer demand and very few sellers listing their homes for sale (see maps below):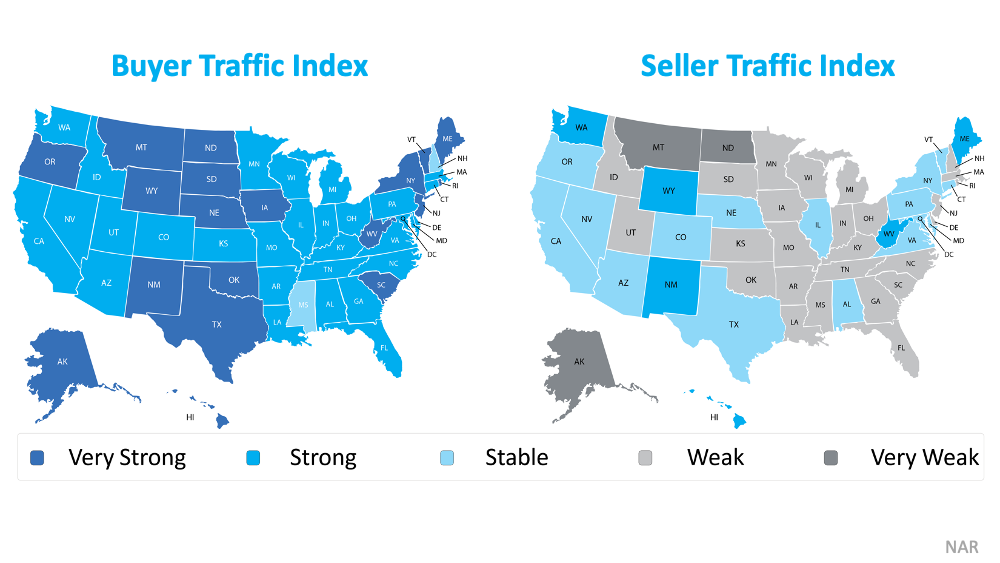 No matter the industry, anytime there's more demand than supply, prices naturally rise. It happens because buyers are willing to pay more to secure the scarce product or service they're looking for. That's exactly what's happening in today's real estate market. Buyers are competing with one another to purchase a home, leading to bidding wars that drive prices up. For sellers, the rising prices mean that opportunity is knocking.
According to Quicken Loans, the national average home price appreciation rate is between 3-5% in a typical year. Today, home prices are appreciating well beyond the norm thanks to high demand. Here are the latest expert projections on the rate of home price appreciation for this year (see chart below):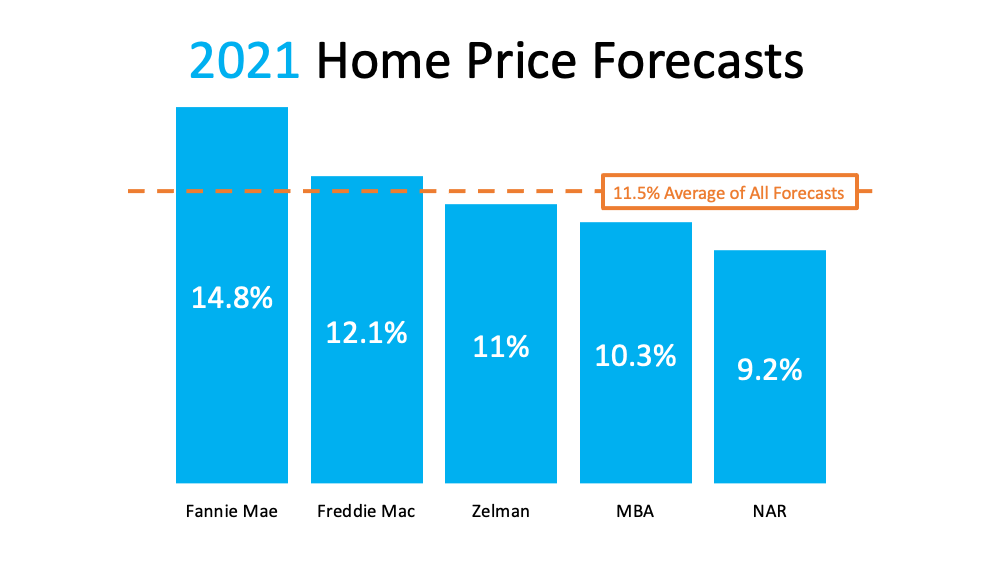 Compared to the normal pace of 3-5% appreciation per year, the current average forecast of nearly 11.5% is significant.
For sellers, this means that with the current rise in prices, your house may be worth more than you realize. That price appreciation helps give your equity a boost. Equity is the difference between what you owe on the home and its market value based on factors like price appreciation. It works like this (see chart below):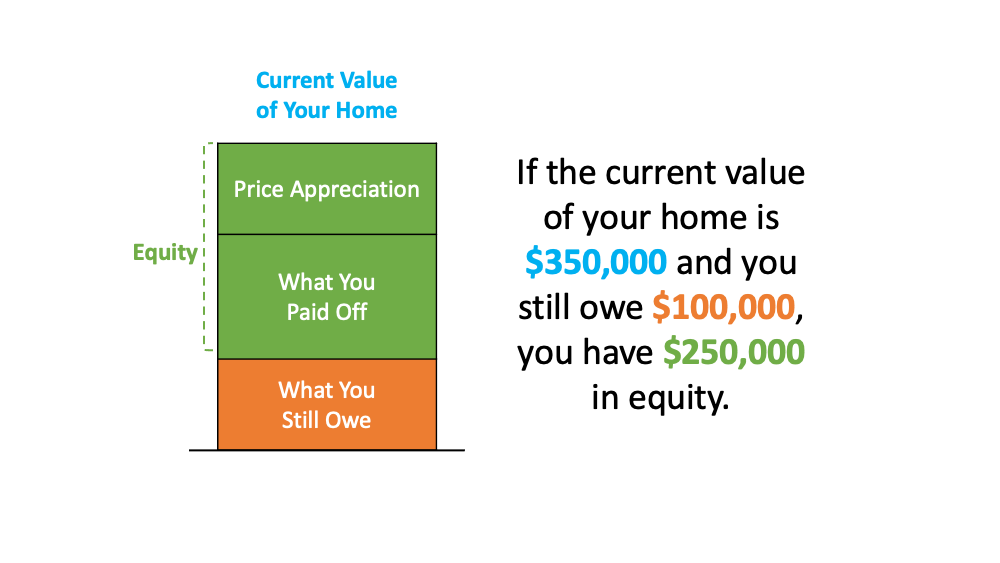 You can use your built-up equity to power a move into your dream home, or you can put it toward life-changing goals like funding an education or opening a business.
But don't wait. While price appreciation is strong now, those same experts say it'll start to appreciate at a more normalized pace next year. If you list your house sooner rather than later, you'll be in a better position to capitalize on the higher-than-average home price appreciation we're seeing today.
Bottom Line
If you're thinking of selling your house, there really is no time like the present. Let's connect so you can get an expert market analysis of your home and its potential.