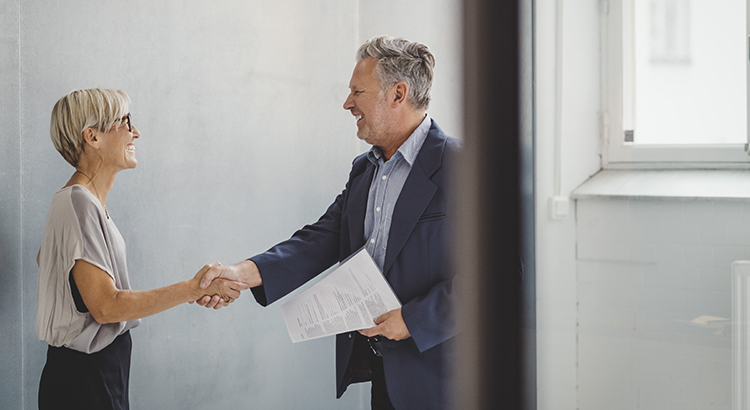 With today's real estate market moving as fast as it is, working with a real estate professional is more essential than ever. They have the skills, experience, and expertise it takes to navigate the highly detailed and involved process of selling a home. That may be why the percentage of people who list their houses on their own, known as a FSBO or For Sale By Owner, has reached its lowest point since 1985 (see graph below):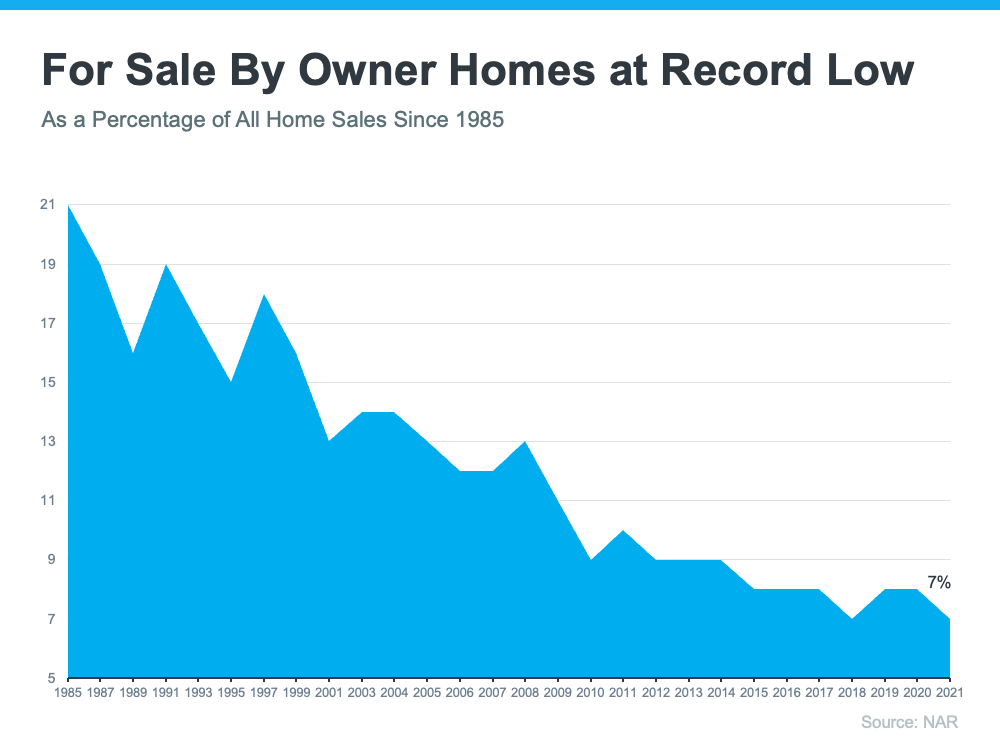 Here are five reasons why selling with a real estate professional makes more sense, even in today's hot market:
1. They Know What Buyers Want To See
Before you decide which projects and repairs to take on, connect with a real estate professional. They have first-hand experience with today's buyers, what they expect, and what you need to do to make sure your house shows well.
If you don't lean on their expertise, you may spend your time and money on something that isn't essential. That's because, in today's low-inventory market, buyers are willing to take on more of the renovation work themselves. A survey from Freddie Mac finds that:
". . . nearly two-in-five potential homebuyers would consider purchasing a home requiring renovations." 
A professional can help you decide what you need to tackle. It's not canned advice you could find online – it's recommendations specific to your house and your area.
2. They Help Maximize Your Buyer Pool
Today, the average home is getting 4.8 offers per sale according to recent data from the National Association of Realtors (NAR), and that competition is pushing prices up. While that's promising for you as a seller, it's important to understand your agent's role in bringing buyers in.
Real estate professionals have an assortment of tools at their disposal, such as social media followers, agency resources, and the MLS to ensure your house is viewed by the most buyers. According to realtor.com:
"Only licensed real estate agents can list homes on the MLS, which is a one-stop online shop of sorts for getting a house seen by thousands of agents and home buyers. . . . This is certainly one of many good reasons why the majority of home sellers decide to employ the services of a listing agent rather than going it alone."
Without access to these tools, your buyer pool is limited. And you want more buyers to view your house since buyer competition can drive your final sales price higher.
3. They Understand the Fine Print
Today, more disclosures and regulations are mandatory when selling a house. That means the number of legal documents you'll need to juggle is growing. That's why Investopedia says:
"One of the biggest risks of FSBO is not having the experience or expertise to navigate all of the legal and regulatory requirements that come with selling a home."
A real estate professional knows exactly what needs to happen, what all the paperwork means, and how to work through it efficiently. They'll help you review the documents and avoid any costly missteps that could occur if you try to handle them on your own.
4. They're Trained Negotiators
If you sell without a professional, you'll also be solely responsible for all the negotiations. That means you'll have to coordinate with:
The buyer, who wants the best deal possible
The buyer's agent, who will use their expertise to advocate for the buyer
The inspection company, which works for the buyer and will almost always find concerns with the house
The appraiser, who assesses the property's value to protect the lender
Instead of going toe-to-toe with all these parties alone, lean on an expert. They'll know what levers to pull, how to address everyone's concerns, and when you may want to get a second opinion.
5. They Know How To Set the Right Price for Your House
If you sell your house on your own, you may over or undershoot your asking price. That could mean you'll leave money on the table because you priced it too low or your house will sit on the market because you priced it too high. Pricing a house requires expertise. Investopedia explains it like this:
". . . There is no easy or universal way to determine market value for real estate."
Real estate professionals know the ins and outs of how to price your house accurately and competitively. To do so, they compare your house to recently sold homes in your area and factor in the current condition of your house. These factors are key to making sure it's priced to move quickly while still getting you the highest possible final sale price.
Bottom Line
There's a lot that goes into selling your house. Instead of tackling it alone, let's connect so you have an expert on your side throughout the entire process.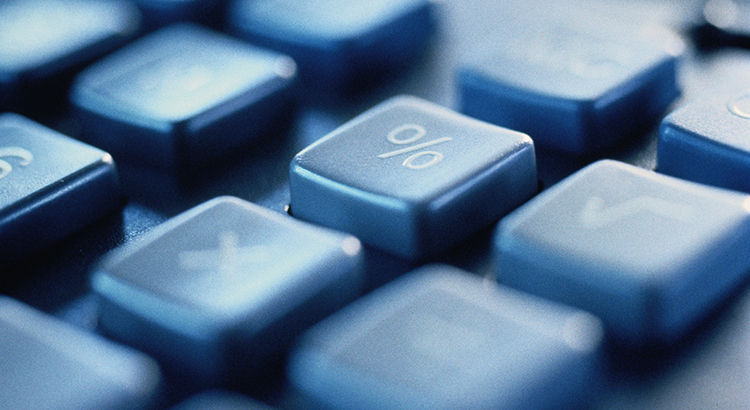 There's never been a truer statement regarding forecasting mortgage rates than the one offered last year by Mark Fleming, Chief Economist at First American:
"You know, the fallacy of economic forecasting is: Don't ever try and forecast interest rates and or, more specifically, if you're a real estate economist mortgage rates, because you will always invariably be wrong."
Coming into this year, most experts projected mortgage rates would gradually increase and end 2022 in the high three-percent range. It's only April, and rates have already blown past those numbers. Freddie Mac announced last week that the 30-year fixed-rate mortgage is already at 4.72%.
Danielle Hale, Chief Economist at realtor.com, tweeted on March 31:
"Continuing on the recent trajectory, would have mortgage rates hitting 5% within a matter of weeks. . . ."
Just five days later, on April 5, the Mortgage News Daily quoted a rate of 5.02%.
No one knows how swiftly mortgage rates will rise moving forward. However, at least to this point, they haven't significantly impacted purchaser demand. Ali Wolf, Chief Economist at Zonda, explains:
"Mortgage rates jumped much quicker and much higher than even the most aggressive forecasts called for at the end of last year, and yet housing demand appears to be holding steady."
Through February, home prices, the number of showings, and the number of homes receiving multiple offers all saw a substantial increase. However, much of the spike in mortgage rates occurred in March. We will not know the true impact of the increase in mortgage rates until the March housing numbers become available in early May.
Rick Sharga, EVP of Market Intelligence at ATTOM Data, recently put rising rates into context:
"Historically low mortgage rates and higher wages helped offset rising home prices over the past few years, but as home prices continue to soar and interest rates approach five percent on a 30-year fixed rate loan, more consumers are going to struggle to find a property they can comfortably afford."
While no one knows exactly where rates are headed, experts do think they'll continue to rise in the months ahead. In the meantime, if you're looking to buy a home, know that rising rates do have an impact. As rates rise, it'll cost you more when you purchase a house. If you're ready to buy, it may make sense to do so sooner rather than later.
Bottom Line
Mark Fleming got it right. Forecasting mortgage rates is an impossible task. However, it's probably safe to assume the days of attaining a 3% mortgage rate are over. The question is whether that will soon be true for 4% rates as well.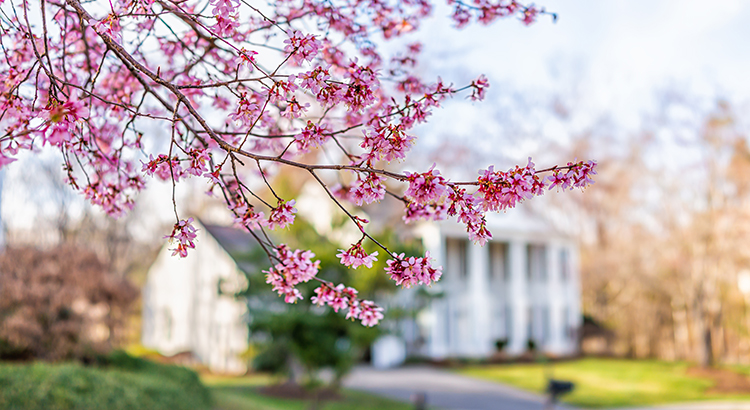 If you're thinking of selling your house this year, timing is crucial. After all, you'll want to balance getting the most out of the sale of your current home and making the best investment when you buy your next one.
If that's the case, you should know – you may be able to get the best of both worlds today. Here are four reasons why this spring may be your golden window of opportunity.
1. The Number of Homes on the Market Is Still Low
Today's limited supply of houses for sale is putting sellers in the driver's seat. There are far more buyers in the market today than there are homes available. That means purchasers are eagerly waiting for your house.
Listing your house now makes it the center of attention. And if you work with a real estate professional to price your house correctly, you can expect it to sell quickly and likely get multiple strong offers this season.
2. Your Equity Is Growing in Record Amounts
According to the most recent Homeowner Equity Insight report from CoreLogic, homeowners are sitting on record amounts of equity thanks to recent home price appreciation. The report finds that the average homeowner has gained $55,300 in equity over the past year.
That much equity can open doors for you to make a move. If you've been holding off on selling because you're worried about how rising prices will impact your next home search, rest assured your equity can help fuel your move. It may be just what you need to cover a large portion – if not all – of the down payment on your next home.
3. Mortgage Rates Are Increasing
While it's true mortgage rates have already been climbing this year, current mortgage rates are still below what they've been in recent decades. In the 2000s, the average mortgage rate was 6.27%. In the 1990s, the average rate was 8.12%.
For context, the current average 30-year fixed mortgage rate, according to Freddie Mac, is 3.85%. And while recent global uncertainty caused rates to dip slightly in the near-term, experts project rates will rise in the months ahead. Doug Duncan, Senior Vice President and Chief Economist at Fannie Mae, says:
"For homebuyers, we believe that borrowing costs will likely rise with the increase in mortgage rates…."
When that happens, it'll cost you more to purchase your next home. That's why it's important to act now if you're ready to sell. Work with a trusted advisor to kickstart the process so you can take key steps to making your next purchase before rates climb further.
4. Home Prices Are Climbing Too
Home prices have been skyrocketing in recent years because of the imbalance of supply and demand. And as long as that imbalance continues, so will the rise in home values.
What does that mean for you? If you're selling so you can move into the home of your dreams or downsize into something that better suits your current needs, you have an opportunity to get ahead of the curve by leveraging your growing equity and purchasing your next home before prices climb higher.
And, once you make your purchase, you can find peace of mind in knowing ongoing home price appreciation is growing the value of your new investment.
Bottom Line
If you want to win when you sell and when you buy, this spring could be your golden opportunity. Let's connect so you have the insights you need to take advantage of today's incredible sellers' market.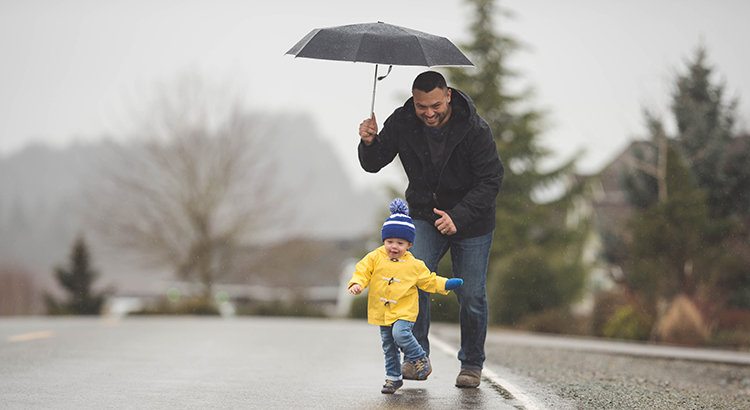 In today's housing market, there are far more buyers looking for homes than sellers listing their houses. Based on the concept of supply and demand, this means home prices will naturally rise. Why is that? When there are more people trying to buy an item than there are making that item available for sale, that drives prices up. And that's exactly the case in today's housing market. So, knowing what's happening with the inventory of homes for sale and the demand for housing is crucial for today's buyers and sellers.
Nationally, Demand Is High and Supply Is Very Low
The latest buyer and seller activity data from the National Association of Realtors (NAR) indicates buyer traffic heavily outweighs seller traffic today, as shown in the maps below. There are far darker blues (strong buyer activity) on the left and much lighter blues (weak seller activity) on the right. In other words, this shows how the demand for homes is significantly greater than what's available to purchase.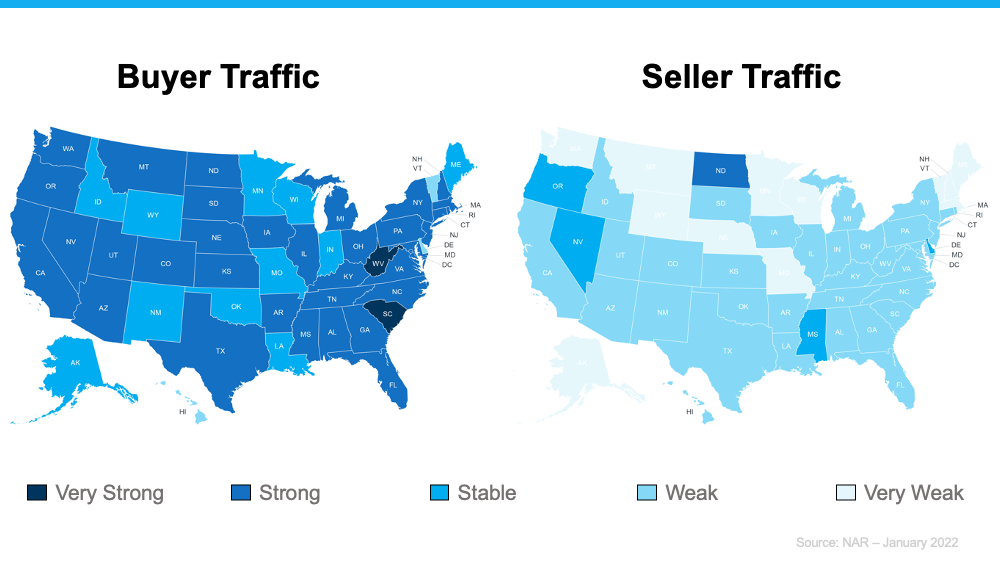 What Does This Mean if You're a Seller?
Supply is struggling to keep pace with demand. In fact, the inventory of homes for sale recently hit an all-time low. That gives you an incredible advantage when you sell your house. With so few listings, it's likely more potential buyers will view your house – especially if you work with an agent to price it right. That means there's a high chance you'll receive multiple offers or buyers will enter a bidding war for your house. And that dynamic can drive the sale price of your home up.
What Does This Mean if You're a Buyer?
As a buyer with fewer options available, you're likely to see more competition, so you need to be strategic to win. First, make sure you have a trusted professional on your side. Your real estate agent will help you understand your local market and work with you to act quickly when the time is right. Even when it's challenging to find a home, you can still succeed as a buyer today if you have a trusted advisor on your side every step of the way.
Bottom Line
Whether you're a homebuyer, seller, or both, knowledge truly is power. Let's connect today so you can better understand what's happening in our local market and achieve your homebuying and selling goals this year.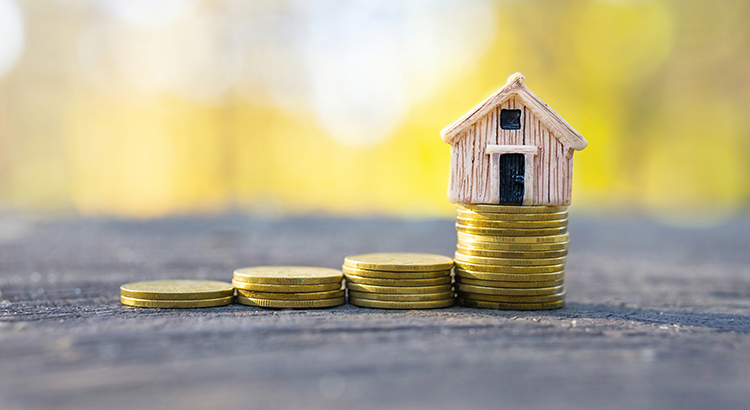 In an annual Gallup poll, Americans chose real estate as the best long-term investment. And it's not the first time it's topped the list, either. Real estate has been on a winning streak for the past eight years, consistently gaining traction as the best long-term investment (see graph below):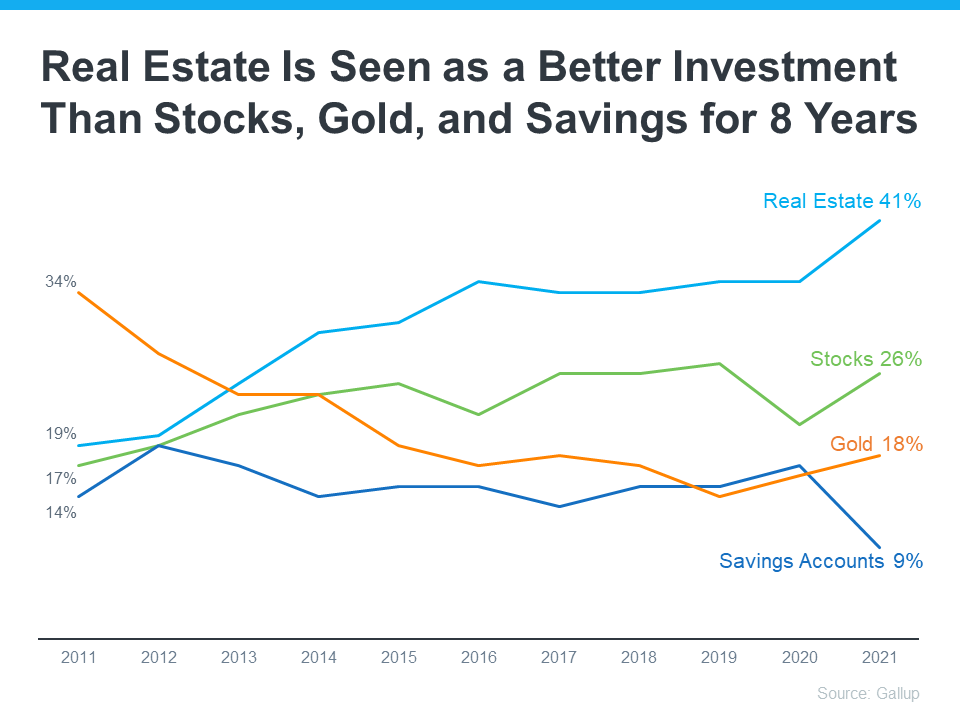 If you're thinking about purchasing a home this year, this poll should reassure you. Even when inflation is rising like it is today, Americans agree an investment like real estate truly shines.
Why Is Real Estate a Great Investment During Times of High Inflation?
With inflation reaching its highest level in 40 years, it's more important than ever to understand the financial benefits of homeownership. Rising inflation means prices are increasing across the board. That includes goods, services, housing costs, and more. But when you purchase your home, you lock in your monthly housing payments, effectively shielding yourself from increasing housing payments. James Royal, Senior Wealth Management Reporter at Bankrate, explains it like this:
"A fixed-rate mortgage allows you to maintain the biggest portion of housing expenses at the same payment. Sure, property taxes will rise and other expenses may creep up, but your monthly housing payment remains the same."
If you're a renter, you don't have that same benefit, and you aren't protected from increases in your housing costs, especially rising rents.
History Shows During Inflationary Periods, Home Prices Rise as Well
As a homeowner, your house is an asset that typically increases in value over time, even during inflation. That's because, as prices rise, the value of your home does, too. And that makes buying a home a great hedge during periods of high inflation. Natalie Campisi, Advisor Staff for Forbes, notes:
"Tangible assets like real estate get more valuable over time, which makes buying a home a good way to spend your money during inflationary times."
Bottom Line
Housing truly is a strong investment, especially when inflation is high. When you lock in a mortgage payment, you're shielded from housing cost increases, and you own an asset that typically gains value with time. If you want to better understand how buying a home could be a great investment for you, let's connect today.