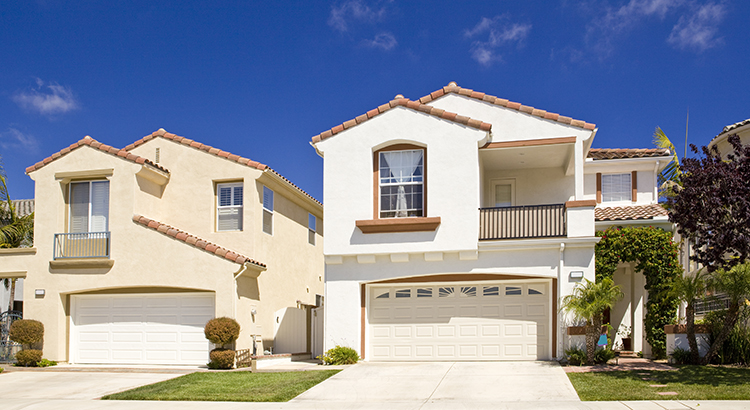 If you're following along with the news today, you've heard about rising inflation. Today, inflation is at a 40-year high. According to the National Association of Home Builders (NAHB):
"Consumer prices accelerated again in May as shelter, energy and food prices continued to surge at the fastest pace in decades. This marked the third straight month for inflation above an 8% rate and was the largest year-over-year gain since December 1981."
With inflation rising, you're likely feeling it impact your day-to-day life as prices go up for gas, groceries, and more. These climbing consumer costs can put a pinch on your wallet and make you re-evaluate any big purchases you have planned to ensure they're still worthwhile.
If you've been thinking about purchasing a home this year, you're probably wondering if you should continue down that path or if it makes more sense to wait. While the answer depends on your situation, here's how homeownership can help you combat the rising costs that come with inflation.
Homeownership Helps You Stabilize One of Your Biggest Monthly Expenses
Investopedia explains that during a period of high inflation, prices rise across the board. That's true for things like food, entertainment, and other goods and services, even housing. Both rental prices and home prices are on the rise. So, as a buyer, how can you protect yourself from increasing costs? The answer lies in homeownership.
Buying a home allows you to stabilize what's typically your biggest monthly expense: your housing cost. When you have a fixed-rate mortgage on your home, you lock in your monthly payment for the duration of your loan, often 15 to 30 years. James Royal, Senior Wealth Management Reporter at Bankrate, says:
"A fixed-rate mortgage allows you to maintain the biggest portion of housing expenses at the same payment. Sure, property taxes will rise and other expenses may creep up, but your monthly housing payment remains the same. That's certainly not the case if you're renting."
So even if other prices increase, your housing payment will be a reliable amount that can help keep your budget in check. If you rent, you don't have that same benefit, and you won't be protected from rising housing costs.
Investing in an Asset That Historically Outperforms Inflation
While it's true rising home prices and higher mortgage rates mean that buying a house today costs more than it did even a few months ago, you still have an opportunity to set yourself up for a long-term win. That's because, in inflationary times, you want to be invested in an asset that outperforms inflation and typically holds or grows in value.
The graph below shows how the average home price appreciation outperformed the average inflation rate in most decades going all the way back to the seventies – making homeownership a historically strong hedge against inflation (see graph below):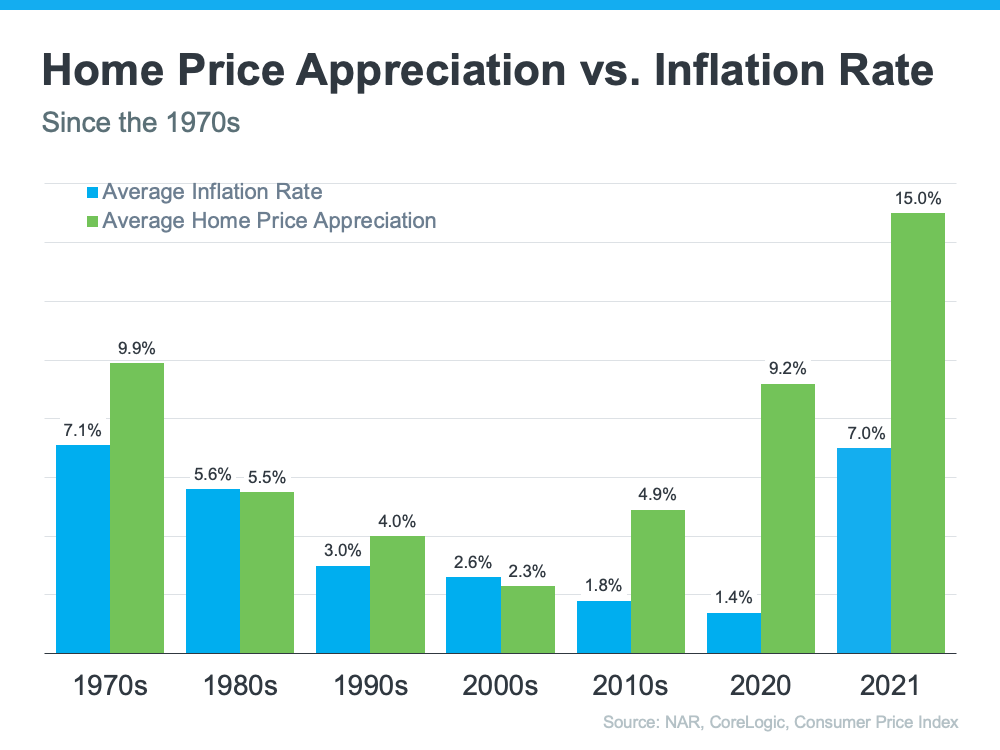 So, what does that mean for you? Today, experts forecast home prices will only go up from here thanks to the ongoing imbalance of supply and demand. Once you buy a house, any home price appreciation that does occur will grow your equity and your net worth. And since homes are typically assets that grow in value, you have peace of mind that history shows your investment is a strong one.
That means, if you're ready and able, it makes sense to buy today before prices rise further.
Bottom Line
If you've been thinking about buying a home this year, it makes sense to act soon, even with inflation rising. That way you can stabilize your monthly housing cost and invest in an asset that historically outperforms inflation. If you're ready to get started, let's connect so you have expert advice on your specific situation when you're ready to buy a home.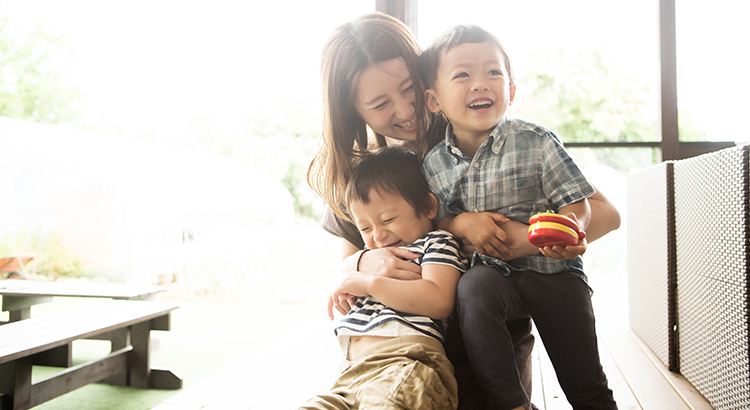 Defining the American dream is personal, and no one individual will have the same definition as another. But the feelings it brings about – success, freedom, and a sense of prosperity – are universal. That's why, for many people, homeownership remains a key part of the American dream. Your home is your stake in the community, a strong financial investment, and an achievement to be proud of.
A recent survey from Bankrate asked respondents to rank achievements as indicators of financial success, and the responses prove that owning a home is still important to so many Americans today (see graph below):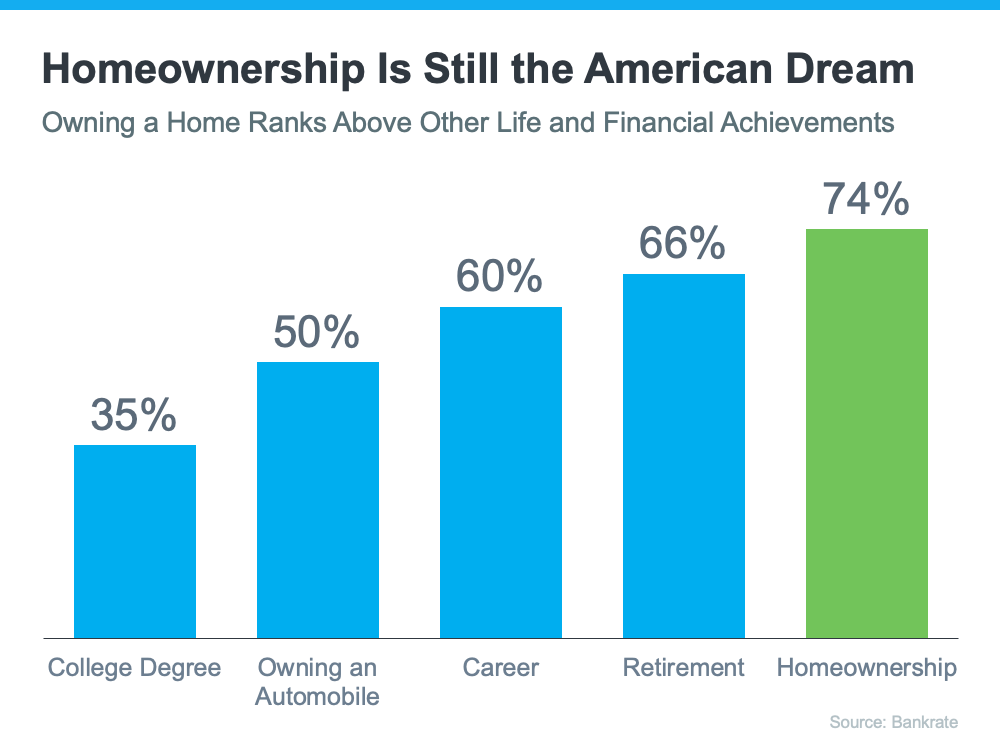 As the graph shows, homeownership ranks above other significant milestones, including retirement, having a successful career, and earning a college degree.
That could be because owning a home is a significant wealth-building tool and provides meaningful financial stability. The National Association of Realtors (NAR) explains:
"Homeownership builds financial security. With 65.5% of Americans owning homes, the net worth of a typical homeowner is nearly 40 times the net worth of a non-owner."
There are other ways your home acts as more than just a roof over your head, too. The Mortgage Reports highlights a few of the many benefits homeowners enjoy, including:
Plus, homeowners tend to be more active in their community. Like NAR says:
"Living in one place for a longer amount of time creates and [sic] obvious sense of community pride, which may lead to more investment in said community."
What Does That Mean for You?
If your definition of the American Dream involves greater freedom and prosperity, then homeownership could play a major role in helping you achieve that dream. When you set out to buy, know there are incredible benefits waiting for you at the end of your journey. You'll have a place you can call your own, feel most comfortable, and grow your wealth.
First American puts it best, saying:
"Homeownership remains central to the pursuit of the American Dream. It is a critical driver of economic mobility, delivering financial and social advantages. . . ."
Bottom Line
Buying a home is a powerful decision and a key part of the American Dream. And if homeownership is part of your personal dreams this year, let's connect and start the process today.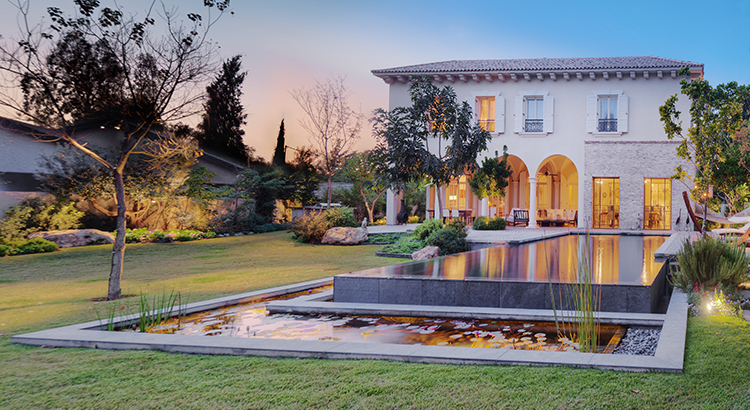 As people realize their needs are changing, some are turning to luxury housing to find their dream home. Investopedia helps define what pushes a home into this category. In a recent article, they point out that a luxury home isn't only defined by its price. Location is also an important factor. It could be a condo at a desirable city address, a spacious home on the water, or one with access to luxury activities like arts and entertainment, high-end shopping and dining, and more. The home itself will also boast some of the finest features available.
According to the Luxury Market Report from the Institute for Luxury Home Marketing, there's been a substantial increase in how many buyers are purchasing luxury homes over the past two years. It says:
". . . North America recorded the fastest growth of demand during the first year of the pandemic. Also, demand has . . . consistently increased, and even in April 2022, we saw a higher volume of sales compared to 2021."
If you own a luxury home, it could be a great time to list your house today while demand is so high. But first, let's understand where the demand is coming from.
What's Driving the Heightened Buyer Demand for High-End Homes?
The same report says more people have reached a certain net-worth threshold, and that's contributing to the increased interest in luxury housing:
"In 2020, we saw a 2.2% growth in the number of individuals with wealth of over $5 million in net value, but in 2021 that number grew by an outstanding 19.8%.

This total increase has resulted in the introduction of over 660,000 new individuals into the high net-worth bracket, which, combined with the existing affluent looking to both diversify and add new properties to their portfolio, provides a true insight into why the demand for luxury properties skyrocketed during 2021 and into 2022."
So, if you're looking to make changes to your real estate portfolio or are looking to sell your current house, it may be a great time to list and benefit from the high demand for luxury homes today.
Bottom Line
If you own a luxury home and want to know how strong demand is in your area, let's connect so you can capitalize on current market conditions while buyer demand for upscale homes is so high.